Nowadays, with the advent of online banking, we have more and more bank accounts. Centralizing all your accounts in one place is therefore becoming more and more vital. Linxo is one of the leading budget management apps, already downloaded by over 3 million people. Linxo allows you to synchronize in one place, via a smartphone application, all of your bank accounts to be able to control your finances. After testing the application for more than a year, I can tell you more about Linxo: how the application works, what features are offered, what is its price… We will also tell you about the security of this app. You will know everything! here is my Linxo reviews.
Linxo, what is it?
Linxo is a French company created in 2010. It is called a bank account aggregator. You can thus, via a single interface, synchronize all of your bank accounts. This application has been downloaded by more than 3 million people and offers lots of interesting features to help you better manage your budget.
Install Linxo
Linxo is present on Google play and IOS smartphones. To download the application, depending on your smartphone, click below:
Download: Linxo App
Once the application is installed, you must add your bank account.
Add a bank account on Linxo
Linxo allows you to synchronize your accounts regardless of the type: a personal account, professional account, life insurance, securities account and PEA. You can add more than 800 banking establishments, so you will necessarily find your bank in the list. If you have multiple bank accounts, you can add them all. This is what makes the strength of the application: centralize all your bank accounts in one place! Once done, you can fully use the application.
To add an account, you must choose your bank from the list of referenced banks: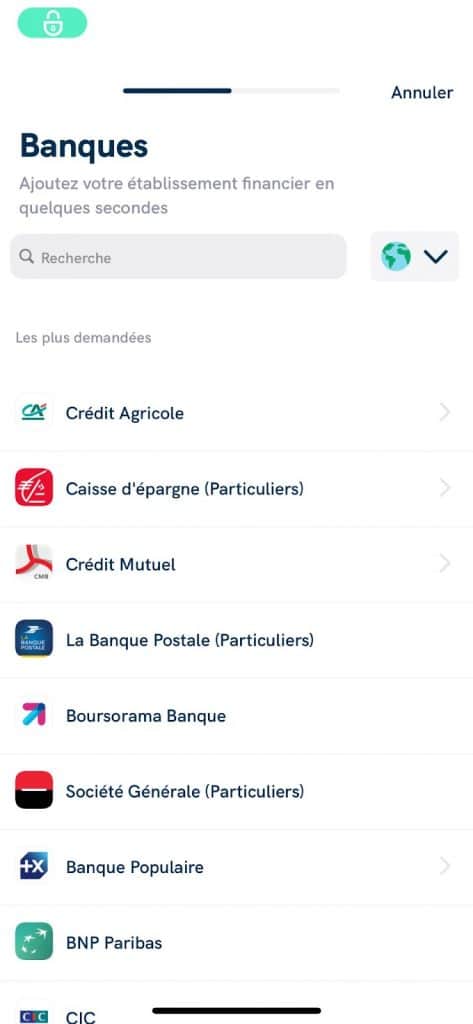 You then only have to enter your identifiers – customer number and password – for your account to be added. You can then repeat the operation for each of your accounts.
Linxo app features

As you know, I give a lot of advice on budget management and in my opinion, Linxo should be used urgently to manage your bank accounts! Imagine before: you had to connect to each account to find out where you were, it was very restrictive! Linxo offers several features to help you better manage your budget.
Budget targets
With this feature, you will be able to create budget goals. For example, in your budget, you have determined that you only need to spend $300 on groceries. You can then create this goal not to exceed! The application will thus warn you, using a bar graph, of the evolution of your expenses. It can even offer you budgets automatically, by analyzing your expenses for the last 3 months.
Categorization of expenses
At a glance, you can categorize your expenses and know what they are. The application thus categorizes most operations automatically, but for some, you have to do it manually the first time. So you know where your money goes each month!
Graphics
Always for the sake of clarity in your budget management, Linxo offers graphs that allow you to quickly visualize your income, your savings and your expenses.
Customizable push and email notifications
Very often, on my blog, I talk about the fact that people who don't manage their accounts sit in the sand: they don't look at them for fear of seeing where they stand. Now, with the functionality of push and e-mail notifications, the application sends you an e-mail and/or a push notification as soon as an event takes place (a large direct debit, a withdrawal, etc.) or when you receive your money. It also allows you to be reactive and adjust the shot when, for example, you will soon exceed your overdraft or if you need to block your card in case of fraud. Of course, through the app, you can configure notifications and determine when it should send you something.
Group your accounts by themes
I love this feature! You can group your accounts by themes, according to their type: professional, personal, common, child, parent…. You can create themes as you like and switch between them in a second. This feature is only available in the premium version.
Added notes on operations
Do you want to add additional information about an operation that has taken place? You can ! This can be interesting for checks, for example. When a check is debited from your account, you know why a few days later, but it's hard to remember several months later. You can add the name of the product you bought, or the name of the person to whom you gave a gift, in short all the information you consider interesting!
Multi-criteria searches
Want to know how much you paid on Amazon last year, how much you spent at Carrefour last week, or the biggest payments you made in the last month? You can search all of this through the app. Search is possible by label, check number, notes, category, date range, account, amount or a combination of these. It is easier to find an operation via the Linxo application than on that of a bank.
Discreet mode
You want to quickly and discreetly look at your accounts, but you don't want us to be able to see the amounts? The discreet mode exists to hide them: just shake your phone and the numbers disappear! To bring them back, shake again.
Weekly or monthly summary

Always with the aim of helping you better manage your budget, you can receive each week or each month, by email, a summary of your accounts: where is your savings, the balance of each account, the transactions to be categorized manually, the identifiers of the bank to update, the list of all notifications received since the last summary, etc.
Exporting your data
You can also export your data and analyze it via an Excel file.
Payment
This brand-new feature really gives the impression of having a traditional banking application. Indeed, from now on, you can make transfers via the application. This service is currently only available for the following banks: BNP Paribas, LCL, Fortuneo, Banque Postale, Caisse d'Épargne and Crédit Agricole. Without a doubt, in the coming months, the application will allow transfers with other banking establishments.
There is also a tool that predicts a potential overdraft and thus suggests a transfer from one account to another to avoid it. This is a very interesting feature when you know that ⅔ of French people exceed their authorized overdraft at least once a year.
Linxo, in addition to its free version, offers a premium version. The premium account of course allows you to have more features than the free version. Its cost is €4 per month if you pay annually – a total of €47.99 – and €5.99 per month. It is non-binding: at any time, you can stop your subscription.
Here are the additional features compared to the free version:
Personalized categories (you can refine or modify the categorization of your operations to have a more precise follow-up).
Search for transactions with no time limit (6 months in the free version).
Access to the forecast balance of your account.
Presence of upcoming operations.
Unlimited graphical analysis (6 months in free version).
Unlimited pointing of operations (limited to 5 in the free version).
Grouped accounts.
No advertising.
Priority support.
Using the premium account becomes interesting if you want to go even further in budget management.
Application Security

As the application processes very sensitive data, Linxo attaches great importance to security. It's not for nothing that 3 million people use it! Without going into details, Linxo offers the same level of security and the same technology as banks (moreover, its majority shareholder is a bank, Crédit Agricole). Linxo stores data on encrypted disks and has created Oxlin, an institution approved and controlled by the Prudential Control and Resolution Authority (ACPR) of the Bank of France. It is the first payment institution in the European Union to receive ISO 27001 certification for PSD2 services.
Bankin' or Linxo?
Bankin' and Linxo are the best-known applications in bank account management. Thus, I am very often asked for my opinion between Linxo and Bankin'. Well, I think the 2 applications are equal! The Bankin' app is a little more streamlined but has fewer features in this sense. On the other hand, in the free version, Bankin' still offers the functionality of the forecast balance, whereas Linxo does not. Then, the premium version of Linxo is less expensive than that of Bankin' (half less if you subscribe for the year, which is not negligible). For this reason, if you upgrade to the premium plan, I strongly advise you to go with Linxo.
Linxo or his bank's app?
For certain operations such as requesting a checkbook or changing the limit of your card, you cannot do without your bank's application. On the other hand, for the budget management part, the Linxo app is much better than what the banks currently offer. Above all, the fact of being able to centralize several banks in one place gives all its meaning to this application. I therefore strongly recommend it!