If you have arrived here, it is because you are asking yourself the following question: "what is cashback?"Cashback is an English word that means cashback. Cashback is thus a method that allows you to earn money by buying online, in stores or even in gift cards. In this guide, we'll see what cashback is, how it works, the different types, how to calculate it… We'll also introduce you to the best cashback sites. We will, of course, explain to you where the money that is paid to us comes from, but also how to withdraw it. Moreover, according to Europe 1, only one in four French people takes advantage of this good plan. This tip is still relatively unknown… At the end of this guide, you will know everything and can take advantage of cashback on your purchases, which could bring you an average of €150 per year.
The definition of cashback
What is cashback? In concrete terms, cashback consists of being reimbursed for part of your purchases in cash. Unlike a discount that applies to the buy-it-now price, with cashback, you will receive this discount in the form of cash. The cashback amount will often be a percentage of the order excluding tax and delivery costs (between 1 and 5% on average) or, more rarely, a fixed amount. There are different types of cashback:
Online Cashback
It is historically the best known and most developed cashback. You make your purchases online at the partner sites of the cashback site, then you receive your cashback on your kitty, which you can then transfer to your bank or PayPal account. Sites like iGraal (European leader), Poulpeo or even eBuyClub are among the best online cashback sites.
Moreover, through my link, iGraal offers you 10€ on your kitty:
In order to put all the chances on your side to earn money thanks to cashback, I recommend that you register on as many sites as possible because each merchant has its partner sites, which you will not necessarily find at one or at the other.
Take advantage of online cashback
To take advantage of cashback, simply go to the cashback site. Let's take the example of iGraal:
Just type the name of the merchant in the search bar, then the site tells you if this merchant offers cashback and the possible amount. You must then click on: "Enjoy it". A page then appears: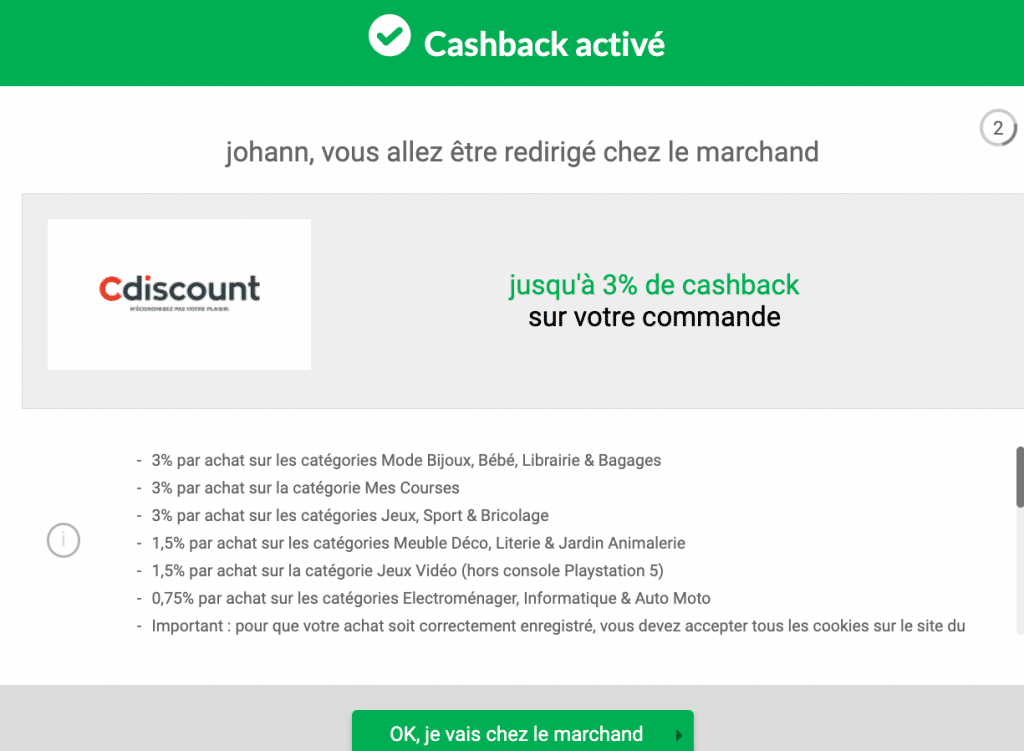 Read this page carefully as it explains in detail the conditions for obtaining cashback. Click on "OK, I'm going to the merchant" or simply wait.
You will then be redirected to Cdiscount and will only have to place an order to receive the cashback in your kitty (allow on average one month to receive your winnings).
Another faster way to receive cashback
Initially, when you wanted to get cashback, you had to go to the cashback site, look for the merchant among the thousands of partner sites offered, then do all the steps that I mentioned to you just before… It was very time-consuming! Many Internet users did not benefit from cashback because they felt that the steps to benefit from it were too long. The cashback sites then thought of facilitating the process to benefit from this cashback: now, you can easily obtain it thanks to browser extensions! Here's how it works.

When you are on a merchant site, the navigation bar is displayed to warn you that the merchant offers cashback and you just have to click on "Activate cashback" to benefit from it. It's practical because you save time and above all, you don't forget to take advantage of the cashback when shopping online!
The Chrome extension is even more interesting because when you are there on your favorite search engine, the logo of the cashback site is displayed.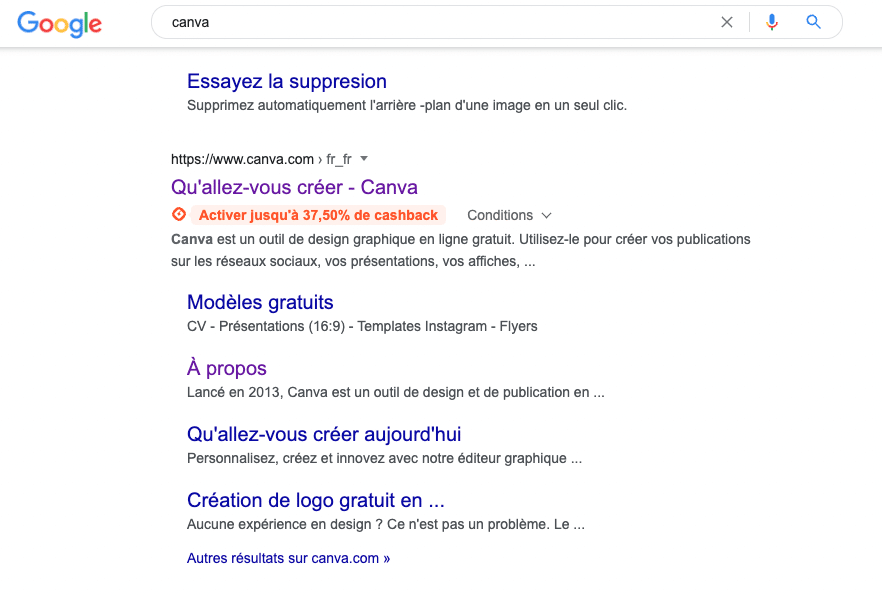 The extension warns you that the merchant offers cashback, which can steer your choice between a merchant who does not offer cashback and another who does.
Note that I took iGraal as an example, but Poulpeo and eBuyClub have the same operation for cashback and they also offer browser extensions.
Calculate how much you can win
Let's take the example with this Delsey suitcase sold at Cdiscount: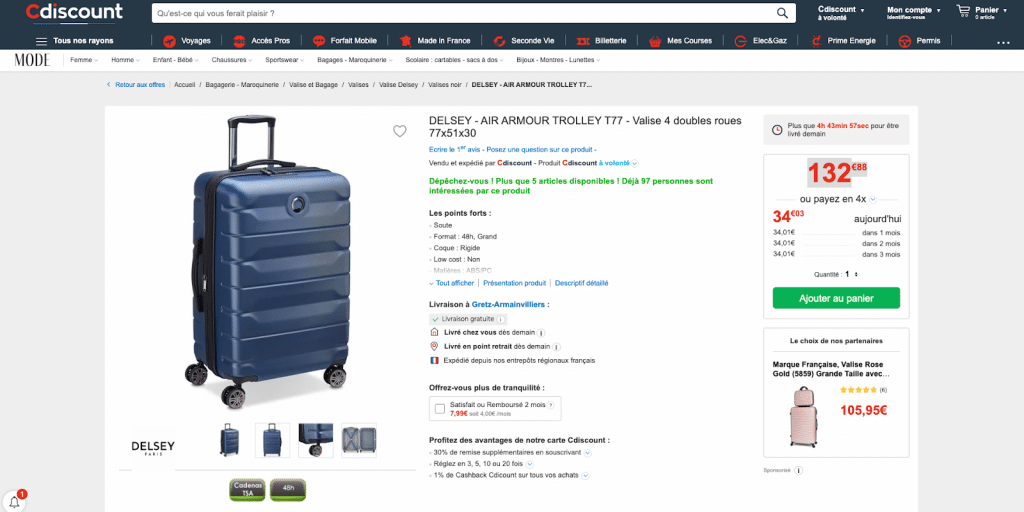 The price is €132.88 including VAT. You have to remove the VAT, the price excluding VAT is then €110.73. It is on this amount that we will have to calculate the cashback that we can earn.
110.73 x 0.03% = €3.32 cashback.
You will recover this amount in your kitty, for a purchase that you were planning to make anyway… Not bad, right?!
The example I took is for percentage cashback, but there is also cashback with a fixed amount. Here's how it works: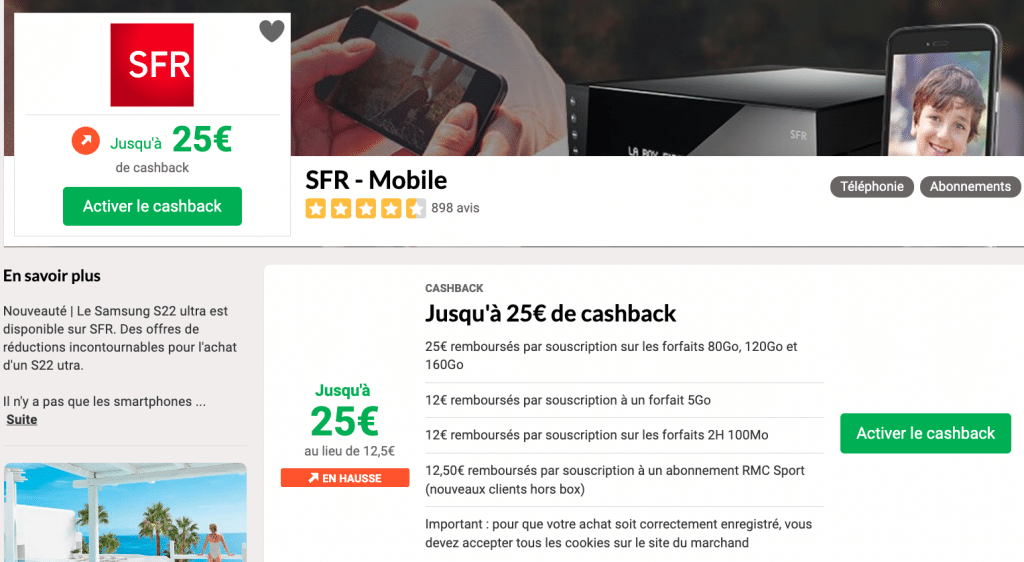 By subscribing to an SFR subscription, you earn up to €25. There, it's very simple to understand, there is no calculation to do: you earn money by respecting the conditions of purchase. In this case, in the example of SFR, the amount of cashback you will earn will depend on the type of subscription you choose.
I have created a cashback earnings simulator that allows you to quickly calculate your cashback earnings.
In-store cashback
For some time now, in-store cashback has been growing. Again, it's very easy to understand. You make your purchases at the partners of the merchant site, with the only difference being that the purchases are made this time in store and not online.
Take advantage of cashback in store
To take advantage of cashback in store, it's even easier than online cashback. All you have to do is synchronize your bank account on the cashback site and it will automatically pay you your cashback as soon as you make a purchase from one of its partners. eBuyClub thus offers cashback in store, but you have to take a photo of your receipt once the purchase has been made in store, which is quite restrictive. On the other hand, you have Poulpeo which offers to register your credit card and will therefore automatically benefit you from cashback in store.
Here's how it works! You need to go to your account and click on store cashback. Then click on "I connect my bank account".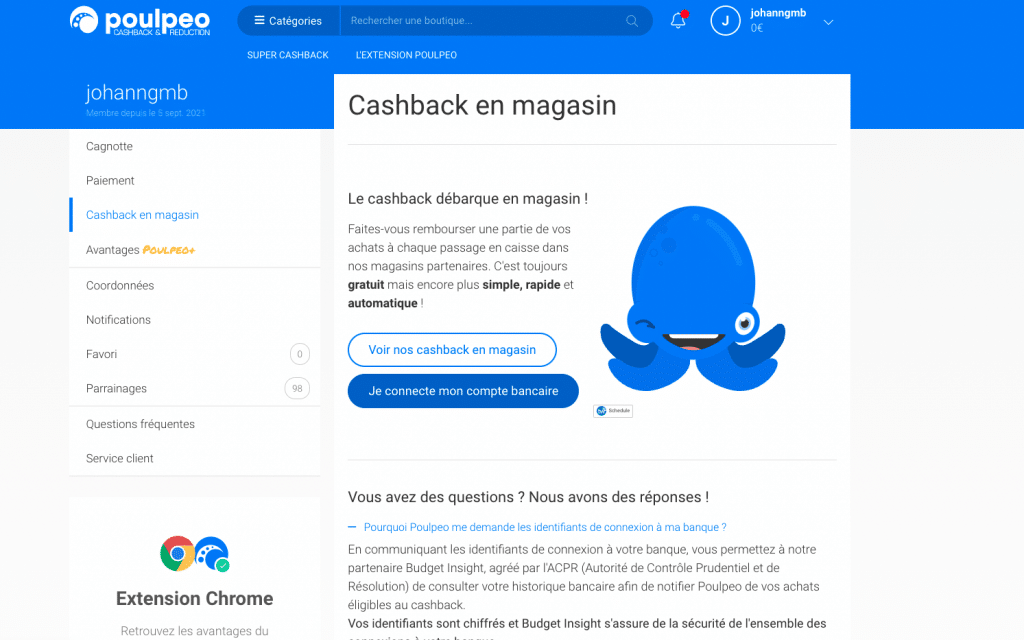 You will arrive on this page: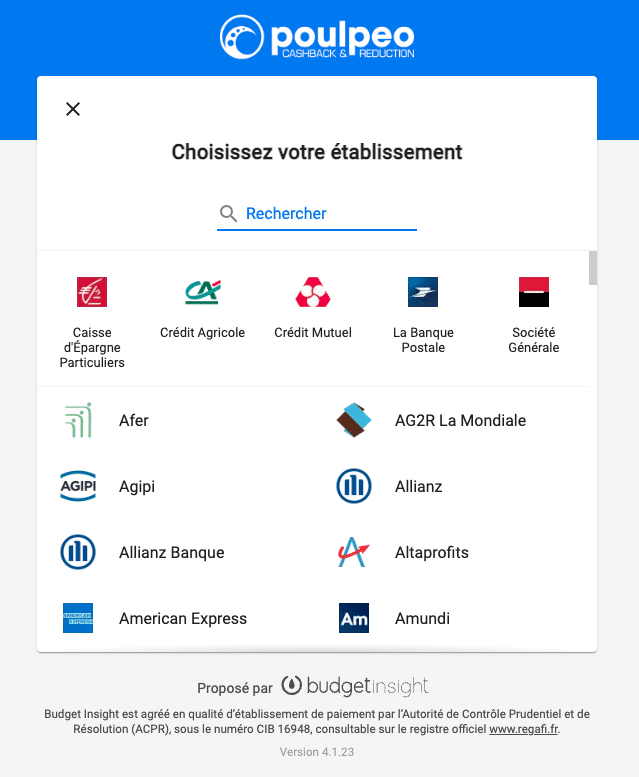 Then find your bank and enter your banking information. Once the connection is established, all you have to do is buy from one of Poulpeo's partner stores.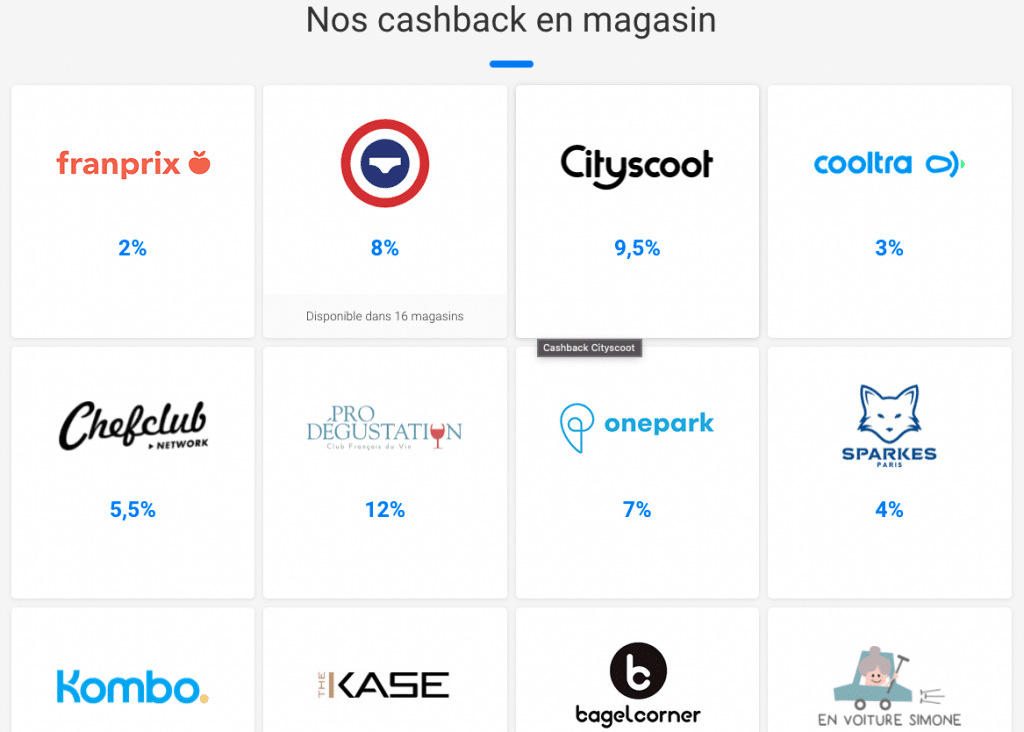 You have interesting partners like Franprix, Le Slip Français or TheKase.
Cashback on vouchers and gift cards
Here is a type of cashback that is quite new and above all particularly interesting! You will buy vouchers by obtaining an immediate cashback. It's a different way of consuming: rather than paying for your purchases with a credit card, you'll buy gift cards and benefit from cashback. eBuyClub offers this type of cashback, with renowned brands such as Airbnb, Carrefour, Monoprix, Decathlon, Primark, Fnac, Ikea… There are more than 100 partners.
Enjoy cashback on vouchers and gift cards
Click on the menu, then on "Voucher". You will arrive on this page: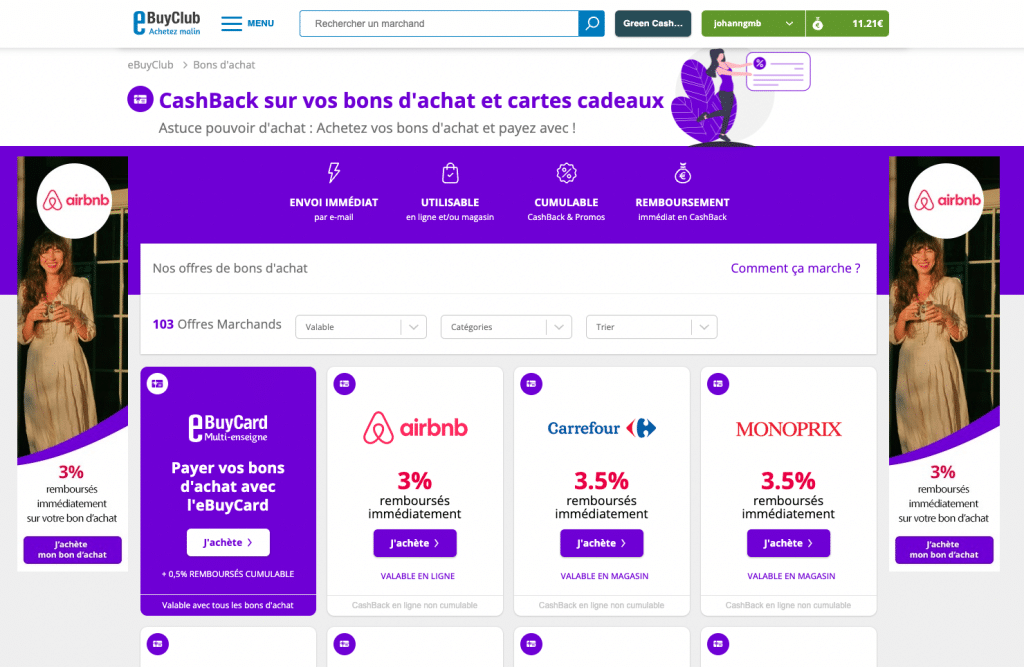 You will then choose the merchant that interests you among the 103 available, for example Airbnb. Click on "I buy".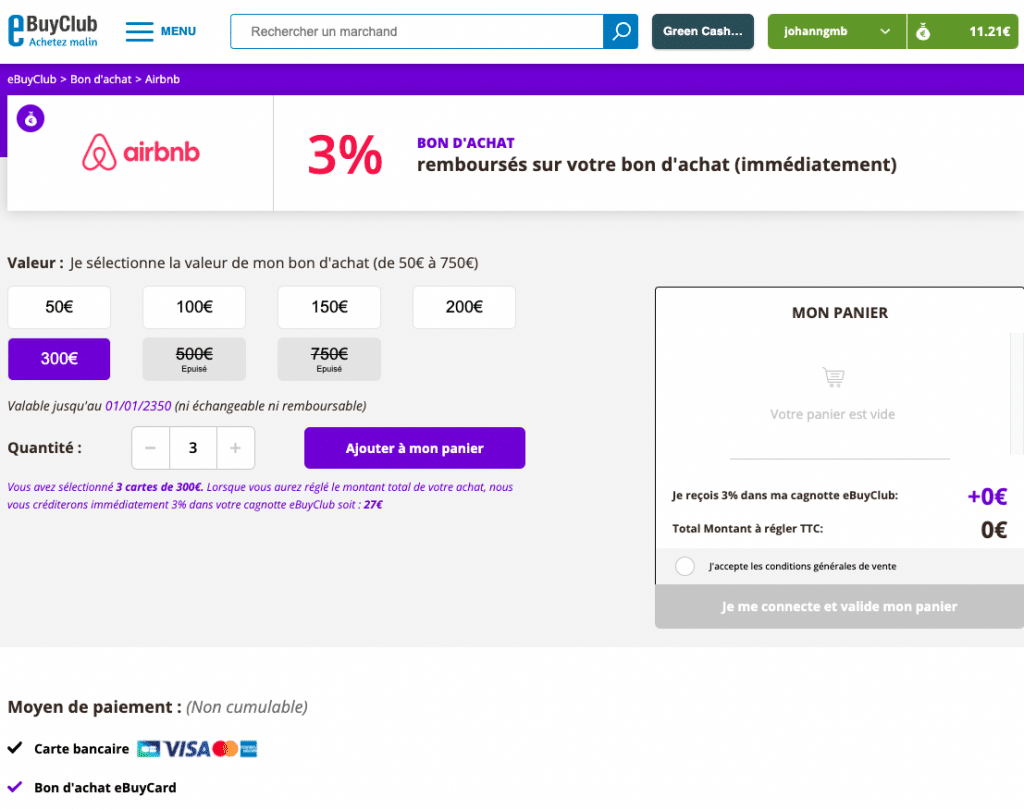 On this page, you can then buy your gift card. To do this, you must select the amount of the gift card, click on add to my basket and then place an order. In this example, you will receive a gift card worth €300, in addition to the €9 which will immediately go into your kitty!
Let's say you need to book your next vacation on Airbnb. You take 900€ of Airbnb vouchers and you receive 27€ on your kitty!
Redeem vouchers
Once the voucher has been received by email, you can use it either online or in store, or even both depending on the brand. At each merchant, you have the mention "valid in store", "valid online", as well as "valid in store and online" to tell you how you can use the voucher.
Cashback credit card
Some banks such as Société Générale have understood the enthusiasm that some people have for cashback and now offer cashback themselves via credit cards, whether through an online or in-store purchase.
Here is a selection of the best cashback bank cards:
pumpkin: online banking offers cashback with partners such as Franprix and Booking.
Vivid: 1% cashback on purchases made with a card and up to 25% with partners such as Asos, L'Oréal, Ebay or Nike.
N26 business: the neo-bank offers 0.1% cashback on all your card purchases.
Societe Generale Cashback: this bank offers more than 1000 partners.
Floabank: 1 to 2% cashback on your purchases as well as your cash withdrawals, which you can use at Casino and Cdiscount in addition to the automatic cashback. Floabank also offers cashback with various partners (more than 300) such as Yves Rocher, Monoprix, Marionnaud, or Celio.
Where does the cashback money come from?
People often wonder "Where does the money come from?" and tend to believe that cashback is a scam. Why is a company that is not the merchant itself going to pay us to make an online purchase? The question is legitimate and you will see that the answer is very simple. Already, it must be understood that cashback is not new. Although it has not yet fully entered the consumption habits of many Internet users, it has existed since 1999, when the first dedicated site was launched. Cashback sites do not come out of anywhere. In fact, the cashback site also receives a commission when you place an order with one of the cashback site's partners.
Like affiliation, for merchants, cashback is a way to increase sales. Cashback sites are therefore considered business providers and merchants are therefore ready to pay them to become part of their partners. The cashback sites collect a commission through this, of which they then pay you apart.
Clearly, there is no scam! Everyone wins. The cashback site makes money, you make money too, and the merchant increases their sales. How does this one do? When you make your purchases, you will undoubtedly favor a site offering cashback over a site that does not offer it, or that offers a less attractive amount or percentage. This, therefore, encourages the Internet user to place an order with the partners of the cashback sites, rather than on a site that does not offer cashback.
Conclusion
Cashback is a really good plan and is anything but a scam. Consumers have been benefiting from this good plan since 1999! Before the arrival of tools and services that make life easier (in-store cashback, browser extension, cashback voucher, etc.), cashback was not an easy method to set up: you had to go to the site, look for your merchant and go to the latter's site, place your order and above all, you had to think about it… But that was before! Now it is very easy to avail of the cashback. You also have to remember one thing: cashback allows you to get cash on purchases that you have to make anyway, so why deprive yourself of it?