Would you like to join the Emrys cooperative in order to benefit from the multi-brand loyalty program? And thus start saving money on your shopping and purchases in general? In this guide, you will see how to register on Emrys, but also what is Emrys, which license to choose, etc. You will know everything! Before I start, I want to make it clear that I am a member of the Emrys La Carte cooperative and that this site is not the official Emrys site. Here is the official Emrys website for more information: Emryslacarte.fr.
What is Emrys La Carte?
Maybe you still need to be convinced to join Emrys… That's why we're going to explain what Emrys La Carte is! Emrys, what is it? Emrys is a multi-brand loyalty program: the more you buy from Emrys partner brands via the gift cards offered by the cooperative, the more purchase credit you accumulate. You can then use it to consume again at Emrys partner brands. This is the principle of the loyalty program! But this is not just a classic loyalty program: it is based on the principle of group purchases. With the cumulative purchase volume of the members, Emrys negotiated commissions with the partners. Emrys then pays a large part of the commissions to its members (the famous purchase credit). To participate in the program, you must be sponsored and change your means of payment, namely to favor credit card purchase vouchers, to benefit from the advantages.
Plus, with the Emrys referral program, you have the option to go even further and get your groceries for free each month. Indeed, you will receive purchase credit from your referrals and from the referrals of your referrals. The more active members you sponsor, who will in turn do the same, the more you will earn. Emrys uses the principle of sponsorship to make itself known rather than very expensive advertising, and thus rewards members who will sponsor active members.
Understand in video the principle of Emrys advantages:
How to register on Emrys: step by step
Step 1: Get sponsored
To register on Emrys, you must be sponsored by a member. Here is my link:
Step 2: Choose your license
You will then arrive on this page:
To join the cooperative, you have to pay an annual fee (called a Card). Note that this is a virtual card and not a real card! Do not panic, the subscription starts at 10€/year. The choice of card will depend on your needs… Here are the 3 types of contributions:
Buyer: the cost of the annual subscription is 10 €. With this card, you cannot sponsor other people. This card is ideal if you simply want to benefit from Emry's advantages and do not plan to sponsor around you.
Delighted buyer: With this card at the price of 40 €, you will be able to sponsor and thus earn more purchase credit. This card is preferred if you simply want to sponsor your family and friends. The purchase credit bonus of your referrals is on 4 levels.
Enchanting: the card is priced at 100€. You will also be able to sponsor and unlike the delighted buyer card, you will obtain a purchase credit bonus on 10 levels. This license is preferred if you have a community or if you are someone who knows and meets a lot of people.
Select the card that suits you and click Next Step.
Step 3: Creating the account
Here, you will add your email address and a secure password.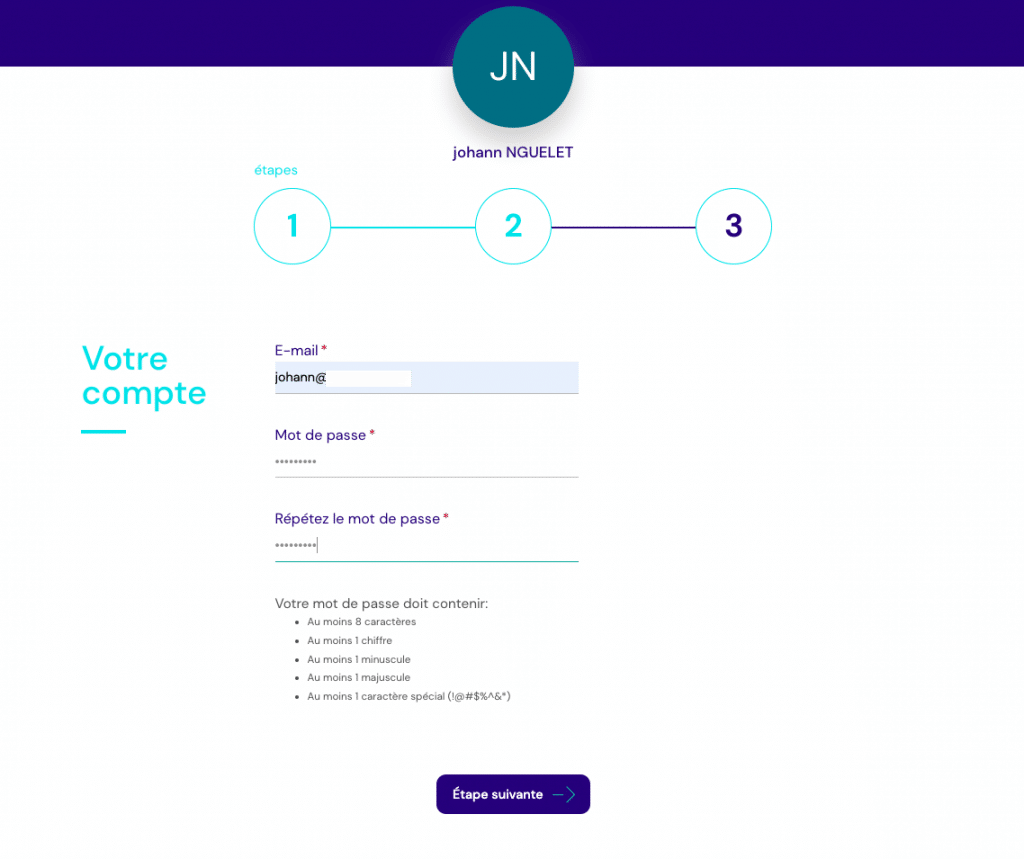 Step 4: Profile
Enter your profile: surname, first name, date and place of birth, telephone number. Accept the general conditions of sale and click on validate.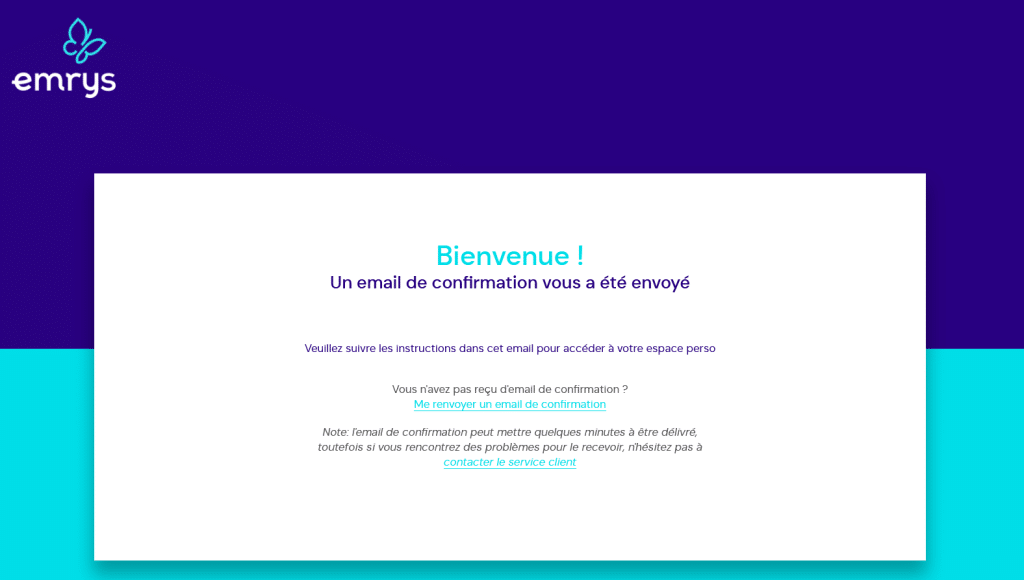 Step 5: Account validation

You will then receive an email to validate your Emrys account. Go to your mailbox and open the Emrys email. Then click on "Activate your account".
Step 6: pay your dues

You will then land on this page:
Enter your billing address.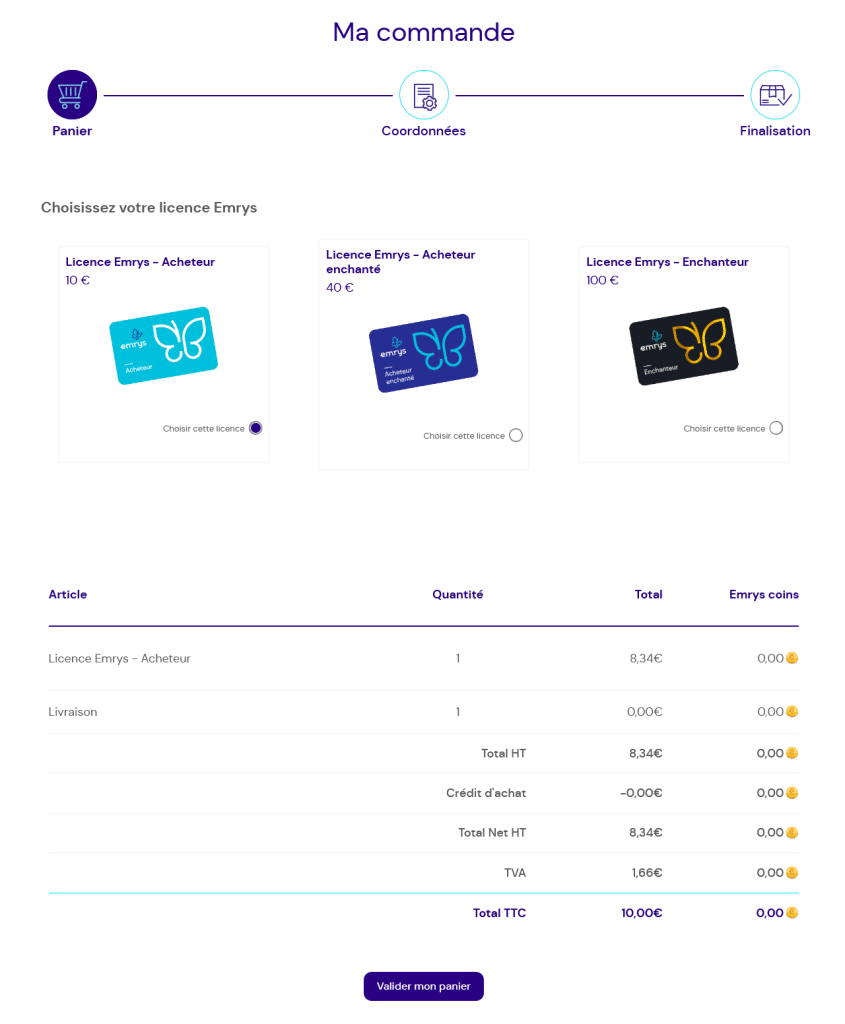 All you have to do is pay your subscription with your credit card to start saving money on your purchases with Emrys.