A few weeks ago, I wanted to buy cinema tickets. But what was my amazement when I saw that they were sold for almost 15€! Going to the cinema has almost become a luxury… And to think that I went to the cinema with 20 francs at the time, for screenings after 6 p.m. in summer! In the early days of the euro, it was only €4.50 too. In short, the price of a cinema session has tripled in 20 years! Admittedly, there is inflation, I am aware of it… But a price that is x3, I find that very high. Fortunately, there are solutions to pay for a cheap movie ticket. I looked for a few on my own and that's how I managed to pay for my cinema ticket with a 35% discount! I have also listed other solutions that I use regularly to pay less. Here are 12 tips for paying for cheap cinema tickets.
works council
The best tip when you want to get cheaper cinema tickets is to go through your works council. Most works councils offer preferential prices. For example, my wife has tickets at €4 – within the limit of 15 units – and can also have cinema tickets at €6.50 all year round. Get closer to your works council to see the preferential rates it offers you.
Unlimited cinema subscription card
If you love watching movies, then the subscription card is beneficial. Indeed, generally, you have already made it profitable by watching 2 films! Afterward, it's like going to the cinema for free. It takes an average of around twenty euros to have unlimited access to films and around €35 ​​for a duo pass. Attention, subscriptions are with a 12-month commitment! The brands that offer a subscription are Pathé Gaumont, MK2 and UGC.
Note that you can also go through your works council to take out a subscription.
Bulk purchase of cinema tickets
The other major cinema brands that do not offer subscriptions offer wholesale ticket purchases. In this way, you will buy several cinema tickets at once, making the price per cinema ticket much lower than when buying individually. For example, you can take 5 to 15 places at once. Thus, at CGR, by taking the 15-seat card, the cost price is €6.80 per seat. All brands offer this type of card.
Pay less according to your family and professional situation
Depending on your professional and/or family situation, you may have reductions. Here is the type of profile that benefits from discounts:
Jobseeker ;
student/middle school student/high school student/apprentice;
disabled person ;
big family ;
senior (over 65);
minor (under 18, under 16 or under 14, depending on the brand).
Of course, you must be able to justify your situation to obtain the reductions.
Choose the right day and/or time
It's a very simple trick to put in place to save money: on your cinema ticket, choose a day and/or a time when the price is cheaper. In order to fill the days and times when the cinema is less frequented, the brands offer more attractive prices. Their interest is to encourage you to go to the cinema during these slower periods. What are the times and days when the price of cinema tickets is more interesting? Every day before noon, and some brands like CGR also offer lower prices on Mondays and Thursdays all day – if you have the loyalty card. UGC offers preferential prices for under-26s on weekends and public holidays.
Look at the prices of your nearest cinema – these are often displayed at the cash desk – to see if there are preferential prices and what are the conditions for benefiting from them.
cinema festival
During the film festival, all screenings are €4. There are 2 a year: a first in the spring (usually at the end of March) and a second in the summer (the dates change each year, but it is often between the end of July and the beginning of August). To obtain the reduction and pay only these €4, you don't have to do anything except pay for your ticket at the ticket office! To know the dates, you can consult the following site: Feteducinema.com.
Groupon
If you don't have a works council, this trick is probably one of the most interesting because it allows you to get a reduction of between 25 and 35% on your cinema ticket. Groupon is a group buying company. Through this mechanism, it can offer very attractive prices. Please note that Groupon does not always offer cinema tickets. So, as of this writing, there are no offers near me.
Here is a place found for the Pathé Gaumont cinema. There are for 19.98€ instead of 29.20€ (i.e. 9.22€ savings), simply by paying the place directly on the Groupon site.
Fnac Darty pass
I have already spoken about this good plan on this site (see my opinion on Pass Fnac Darty). The Fnac and Darty partner program provides discounts from more than 80 partners. The principle is simple: you buy vouchers on the site with immediate reductions. Fnac Darty offers renowned partners such as: Intermarché, Fnac, Airbnb, Monoprix, Asos, Booking, etc.
Let's show how it works with an example. You want to buy an Airbnb voucher for €100: you will pay €95 for the card, but will receive a card worth €100 and therefore save €5.
For cinema tickets, it's a little different. The amount of the reduction is not in percentage, it is a fixed price.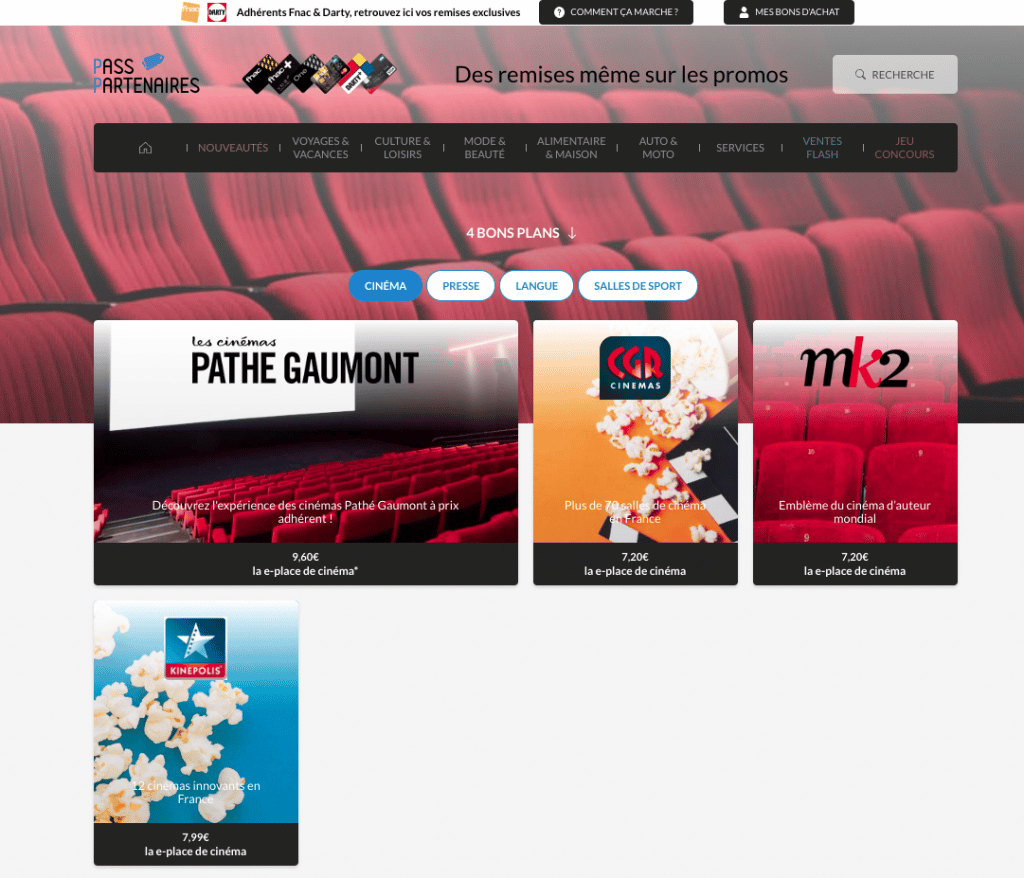 The CGR seat is €7.20 instead of €11 on average, Pathé is €9.60 instead of €14.20 and MK2 is €7.20 instead of €11. It's a pity that Fnac Darty Partner Pass does not offer a preferential rate for the UGC brand!
To become a member of the Fnac Darty Pass and be able to take advantage of the offers, you must participate in the Fnac loyalty program by having the Fnac+ or FnacOne card, or have the Fnac Mastercard card. You can also be a member if you have a Darty visa card or are a Darty Max subscriber.
Loyalty card
Cinema brands offer loyalty cards. Like any loyalty card, you accumulate points with each visit, then you can exchange these points for free seats and discounts on drinks and confectionery.
Independent movie theater
Small cinemas and other neighborhood cinemas offer more attractive prices than the big brands. Independent cinemas are increasingly rare, but you can find one near you by searching the Internet.
McDonald's
McDonald's regularly offers deals to get cheaper movie tickets. For example, you have the Mcine menu which includes a best of menu as well as a cinema ticket. You also have the cine code offer, where you earn a free seat in exchange for a purchased seat. Depending on the city and the McDonald's you are in, offers may vary. Some are punctual and others operate all year round.
Culture pass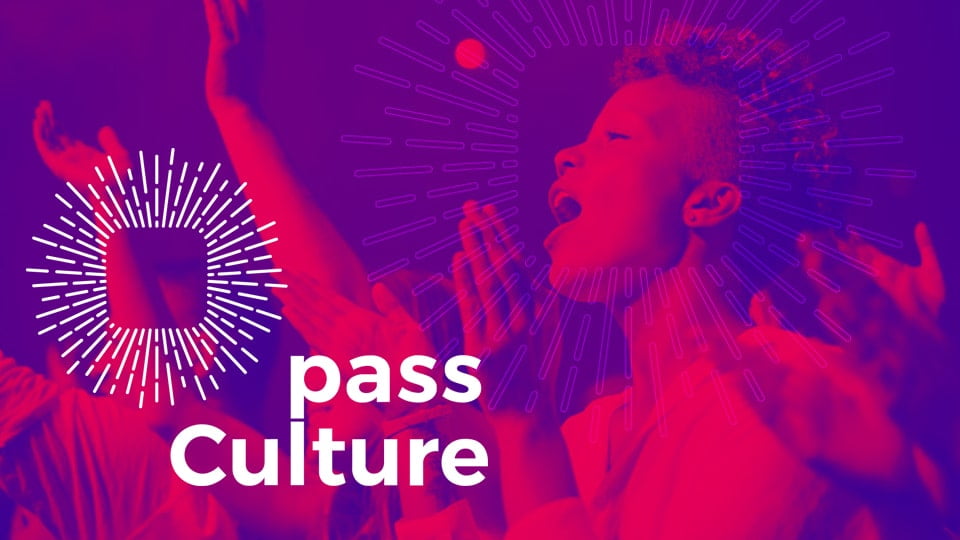 If you are between 15 and 18 years old, you are entitled to the culture pass. You can thus receive between 20 and 300€ depending on your age, which you can then use to go to the cinema. To benefit from this pass, you must be French, or have lived in France for more than a year for foreigners. With this pass, you can buy tickets for concerts, festivals, museums, but also CDs, books, musical instruments, ebooks… and of course cinema tickets! More information on the culture pass here: Pass.culture.fr.
I hope this list will help you pay less for your cinema tickets. If you have tested a tip listed in this guide or if you have a tip to share to pay less for your cinema ticket, react in the comments!