Amazon, which needs no introduction and which is the number 1 e-commerce site in the world, offers millions of products at very attractive prices.
Amazon has based its fame on:
client service,
fast delivery,
the wide choice of products,
low prices.
It is therefore a safe bet that you are one of the Amazon customers, because you are always looking for low prices (like everyone else) and generally, Amazon is always well positioned in terms of price.
But what if I told you that you can save even more on Amazon, with two tips that I will share with you right after?
Indeed, you will be able to save up to 68% (example in support) on your online orders without effort.
Looking for a Amazon price comparison? Check out our two tips for comparing Amazon prices.
Amazon price comparison on other sites
Honestly, if I find the same product on Amazon and on another site and both products are the same price, I will favor a purchase on Amazon rather than the other site.
With Amazon I am secure, the customer service is great and the product will arrive quickly. Only a higher price will make me want to "go elsewhere".
Amazon has created a browser extension that allows you to compare prices when you are on another site.
The principle is simple: for example, you are on Cdiscount, looking for a perfume. You open the product page of a fragrance that interests you and a small pop-up at the top right of the screen is displayed: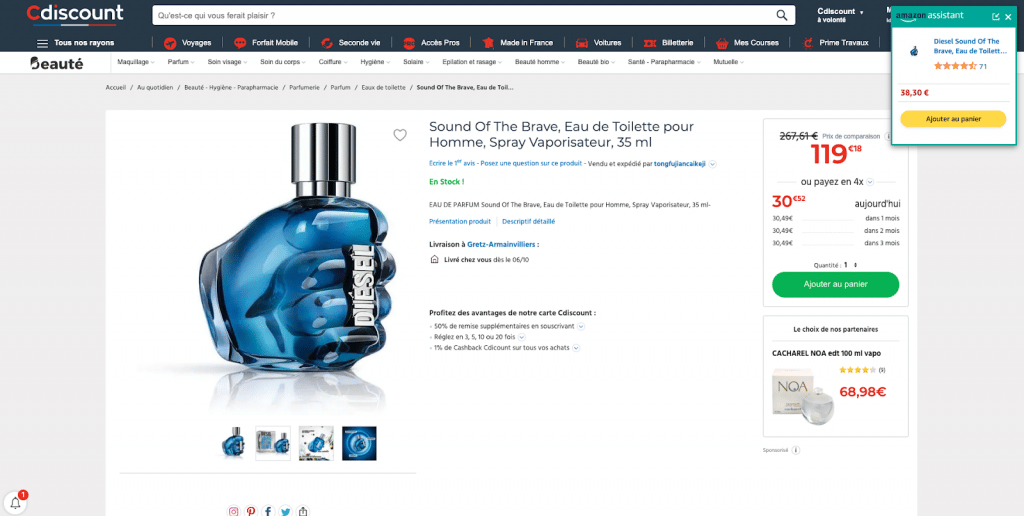 Amazon sells the same product for €38.80, a saving of €80.38!
Of course, it doesn't work all the time. I had to search several products to find such a discount. But with this example, you understand that the Amazon Assistant extension allows you to compare prices with all other e-commerce sites. The great strength of the extension is that it opens on all sites and only when Amazon offers the same product.
The extension also allows you to receive information about your order, for example, its shipping date, as well as the possibility of being able to add products to your Amazon wishlist.
The extension is available on all browsers: Chrome, Opera, Microsoft Edge, Firefox
Download the Amazon Assistant extension
Discover other extensions to save money: Top 5 promo code extensions
Amazon price comparison between countries
Now that we have seen how to compare Amazon prices with other sites, we will see how to compare Amazon with itself.
How is it with himself, you will say to me?
Well, the prices on the Amazon site are not the same depending on the country.
Yes yes, you read correctly!
There may be significant price differences from one country to another in the euro zone, and by comparing countries, you will be able to save money.
In Europe, Amazon is present in France, Spain, Italy, Germany and the United Kingdom.
During my research, I tested the many Amazon EU price comparators, and here is a feedback on three comparators.
Savemoney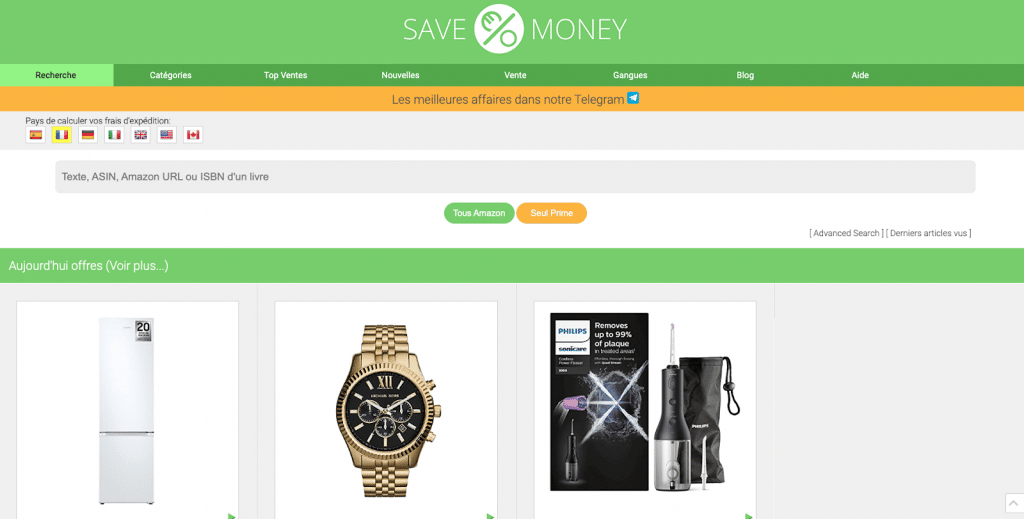 You can choose your product in the search bar by typing the Amazon ISBN URL if it's a book, the ASIN or the product name.
Here is how the comparator works: it gives you the prices of the different Amazon sites, like this: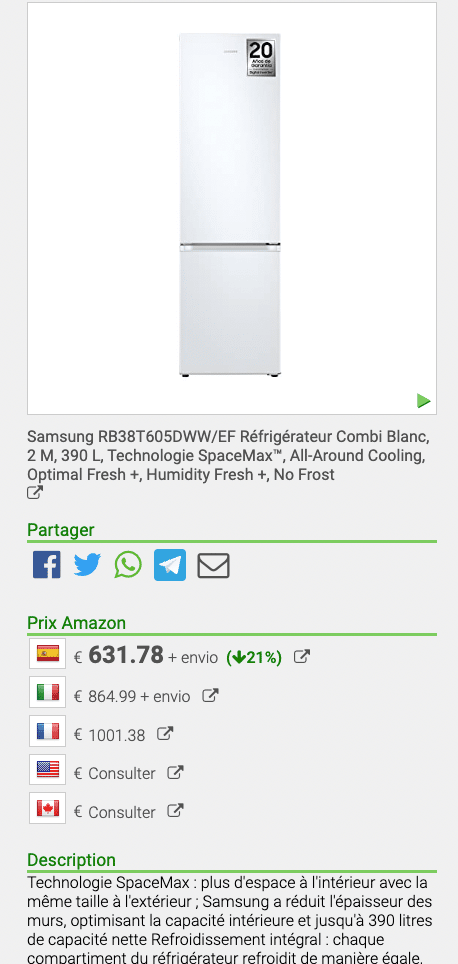 I then went to the Amazon.es site, because we can see that we are making a big saving compared to France, going from 1001.38 € to 631.78 €!
Let's take a closer look.
Here is the Amazon.es page: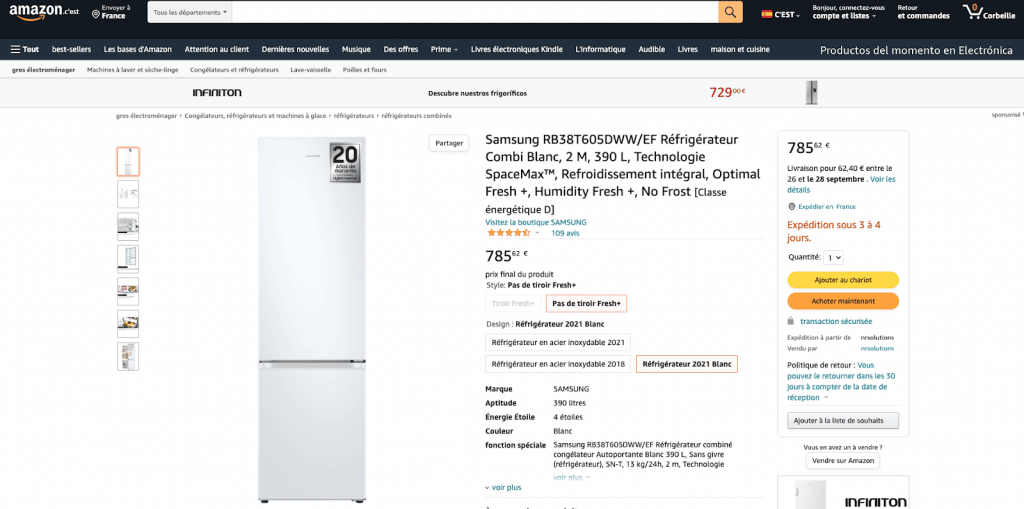 The advertised price is not the same as expected, which is a shame, but we still save money compared to France: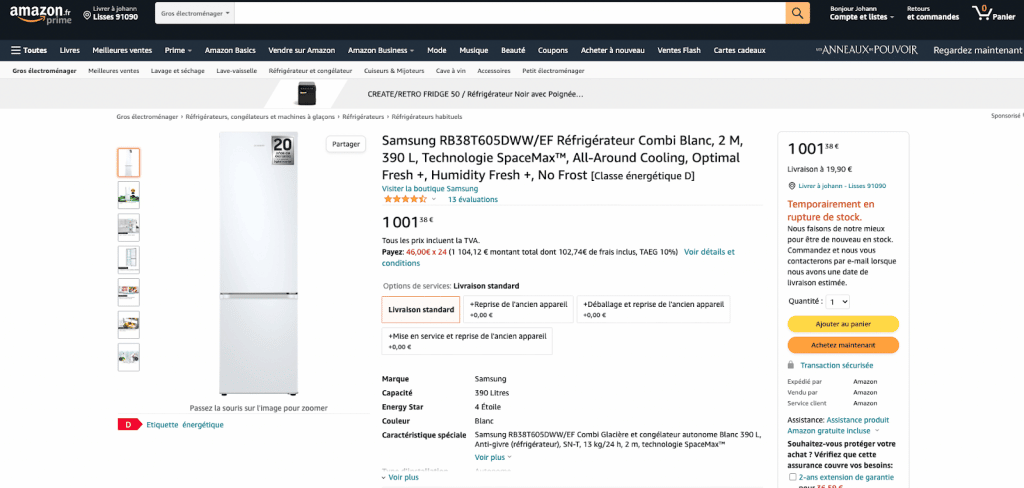 You see that simply by changing the page, going from Amazon.fr to Amazon.es, we save €242.76 on this product!
On the home page, Save Money displays the best deals of the day, which is very interesting if you want to do business, but you don't know what to buy.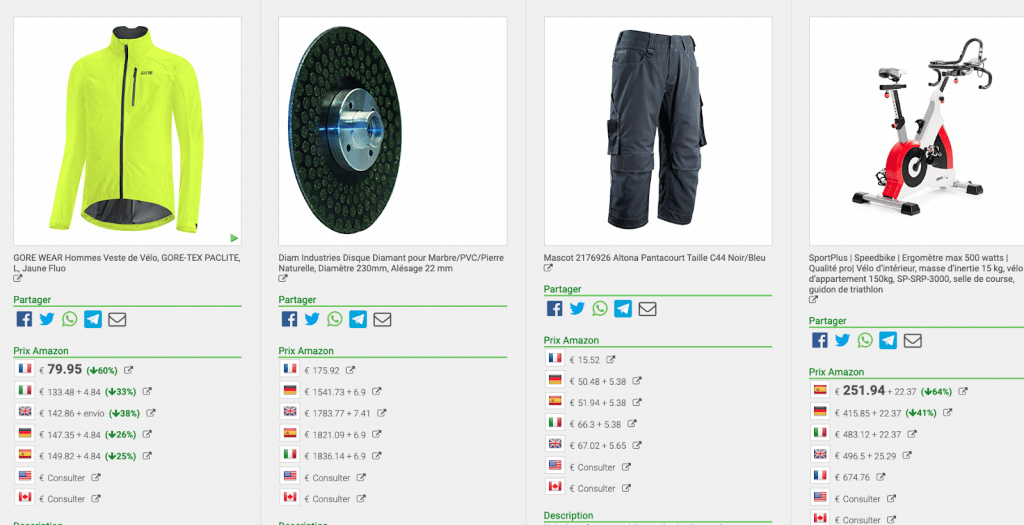 For other items, you could not search for a specific product, but rather product categories, etc.
Priceszone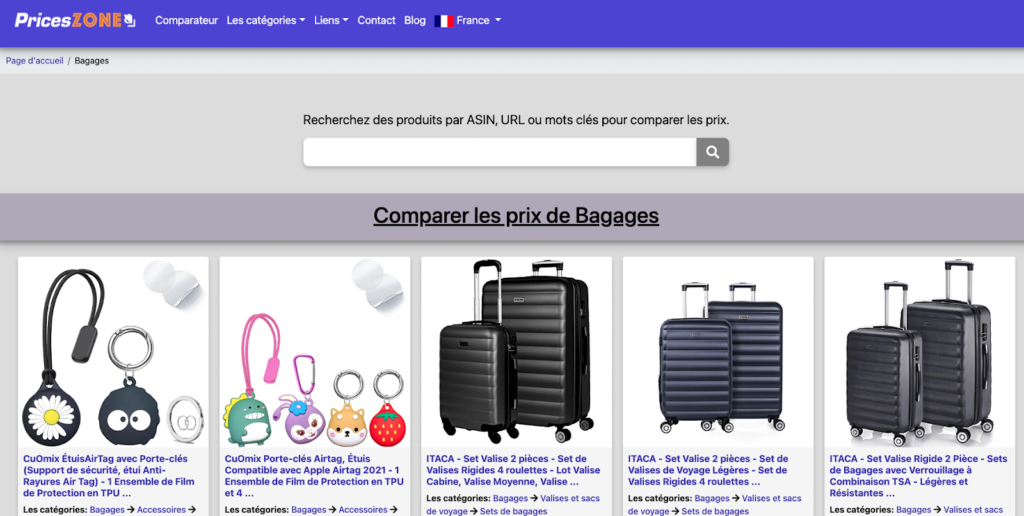 Priceszone works in the same way as SaveMoney, namely the product search:
by URL;
by product name;
by product code and of course,
by comparing product prices between Amazon sites.
The added bonus of Priceszone is that you can search for products by category, unlike SaveMoney, which only offers two categories.
On Priceszone, you have the main categories offered by Amazon.
If you have no idea what type of product you want to buy, then you can search for a product by category, just like you could on Amazon.
MaxSpar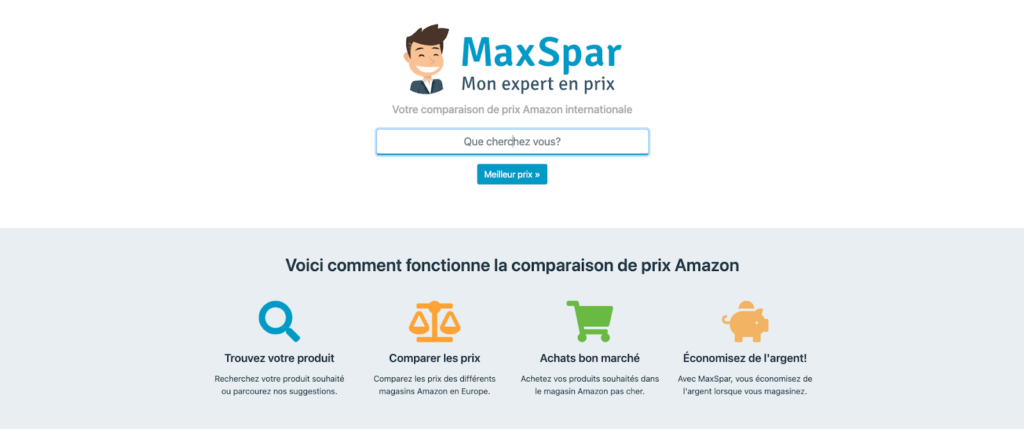 MaxSpar is a different comparator. Here, you will not be able to search for a product via an Amazon URL or a product code, but you will be able to search for a product according to the type of product you want to buy. What, at the base, can be a defect becomes an advantage in my opinion, because if you do not know exactly which product to buy, you will be able to compare different products between them and between the different European sites of Amazon.
A picture is worth a thousand words, here is an example so that you can understand the potential of this comparator.
In the search bar, I typed "electric bike" (I'm looking for some right now, that's good 😉).
Here I am on this page: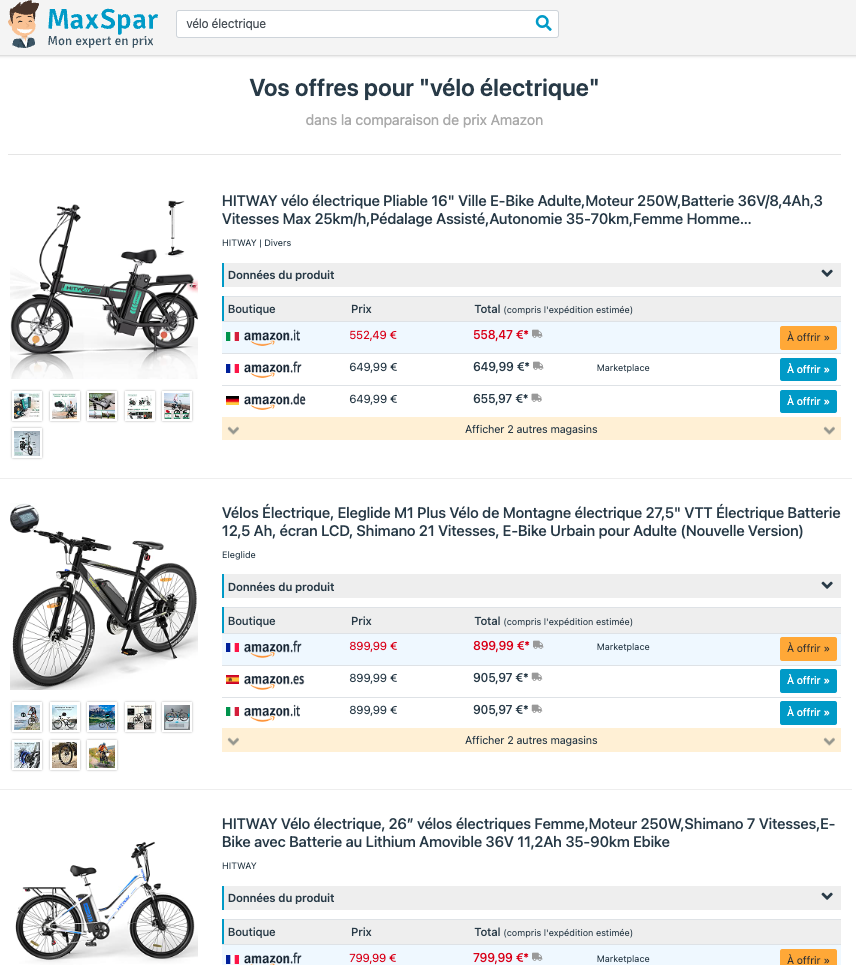 Here I was able to compare between different models and of course between different Amazon stores in Europe.
Did either of the two tips help you save money on Amazon? Share these tips on your favorite social networks and react in the comments.
If you want to learn more tips to save and earn more on Amazon, here are several articles dedicated to Amazon:
Get Amazon cashback.