A few years ago, when I wanted to sell my sofa to change it, I had the reflex to put it up for sale on Leboncoin. Like many, to sell furniture, we immediately think of this platform, but… I don't know about you, but I find that over the years, selling on Leboncoin takes much longer than before.
I don't think the platform is less visited. However, I think there are more sellers than before and therefore the competition is more important. In short. So I put my sofa up for sale on the platform and, several months later, it still hadn't been sold.
This constituted a real "household" constraint, I would say, because although it ended up being sold, in the meantime, I had to store it for months in my box (and still, I am lucky to having had a box), but for those who cannot store a bulky piece of furniture, sofa or other (dresser, sideboard, etc.), it is even more restrictive! So you have to sell quickly and often, which means selling off your furniture, which no one wants.
A few weeks ago I started looking for a new sofa, so I put my current sofa up for sale, but this time I looked for other alternatives to the Leboncoin site in order to sell faster.
In this guide, I'll walk you through how resell my sofa: on which sites, what are the costs and I will give you some advice on how to sell your sofa well.
Where to sell your sofa on the internet?
During my research I identified four sites to sell your sofa online. I posted an ad on each of them to put the odds on my side and sell my sofa.
I Selency
Selency is a giant online flea market in the form of a marketplace. Moreover, its former name was Brocante Lab.
The platform was created in 2014. Individual and professional sellers can sell their furniture there.
Selency brings together 300,000 online references, and more than 2.5 million visitors each month.
Of the four platforms tested, Selency is the platform that takes the most big commission, with 25% tax included.
Note that the posting is quite long, since it takes about two working days for the ad to be published.
It took five hours to get an answer: Selency refused to publish my ad for the following reason: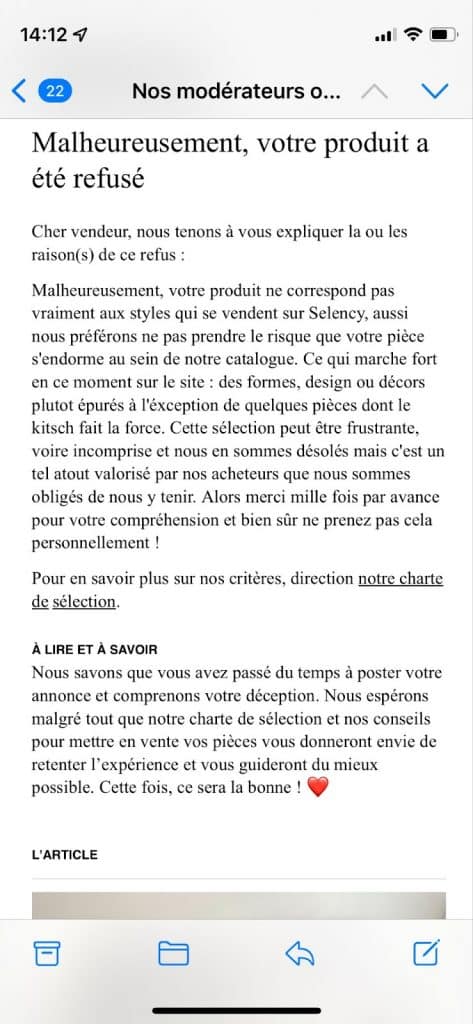 My sofa is a year old, it's a great sofa brand, couldn't be more classic in color and shape, and I don't think this one is so outdated that it won't sell.
We are far from the flea market atmosphere, friendly and simple, but we are more in the bobo chicos! Site with a high commission which, in addition, refuses canapes on the pretext that this one is not good enough for them!
So too bad, other sites will be happy to put my ad online.
Youzd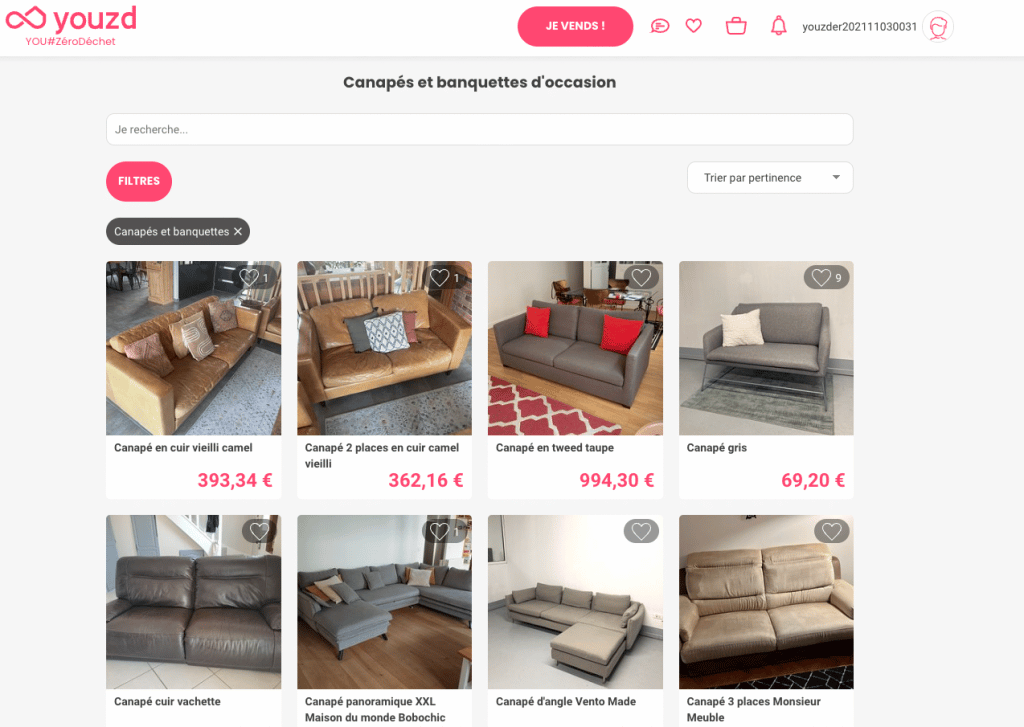 Youzd starts from the observation that 90% of furniture purchases are made new and that, each year, millions of tons of furniture and household appliances are thrown away.
Rather than throwing away, the site wants to give furniture a second life by reselling it on their platform. Youzd is a bit like the Vinted of furniture. On Youzd, it is the buyer who pays the service fees (commission).
The good corner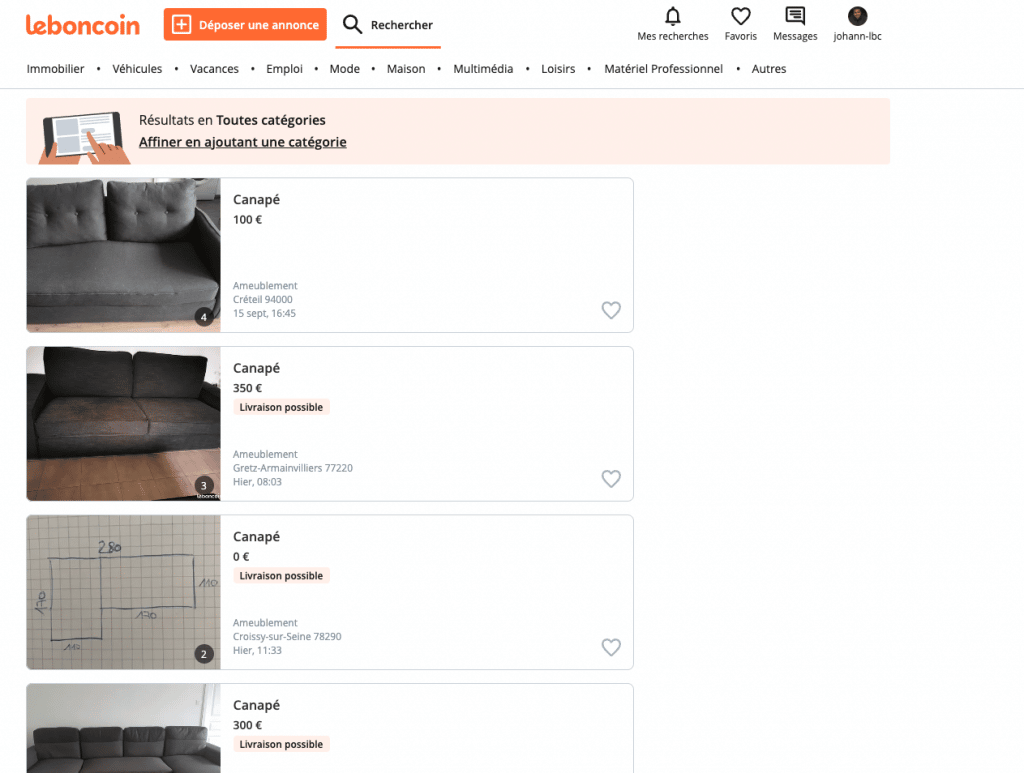 We no longer need to introduce LeBonCoin, which is a huge online ad site with very high traffic (millions of visitors each month).
The advertisement publication is completely free, and your advertisement will undoubtedly be very visited.
On the other hand, on this site, users like to negotiate in a very aggressive way, shall we say, and are sometimes not very serious (appointment canceled, Internet user who no longer responds, etc.).
The big advantage of the Leboncoin site is that it does not take any commission.
The Reloop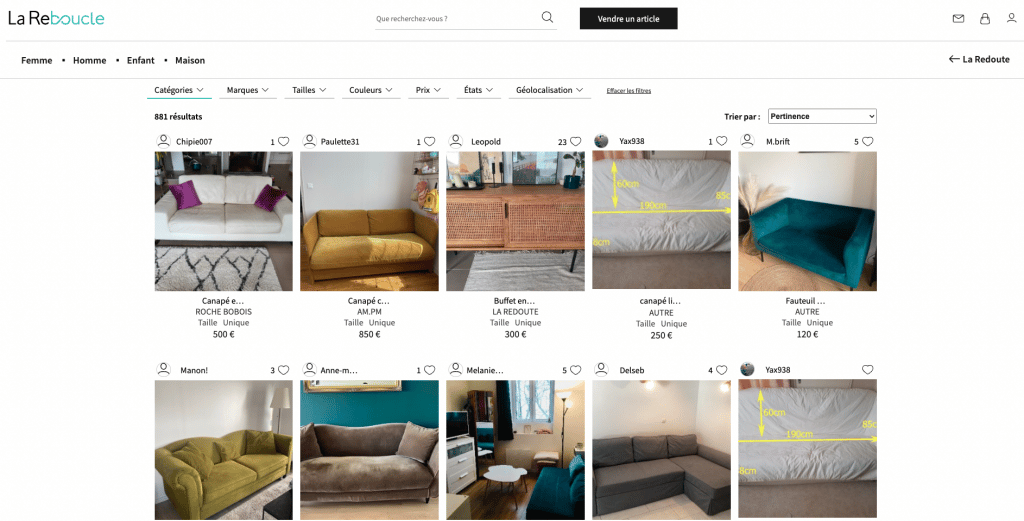 La Redoute – which needs no introduction – has created La Reboucle, which is a site for resale between individuals.
Unlike Vinted, on La Reboucle, you can sell a sofa.
In addition to hand-delivery, the site offers delivery with the "Co Colis" parcel transport platform between individuals.
Like Leboncoin, La Reboucle does not take any commission from the sellers, it is the buyer who pays a commission at the time of his purchase.
A little extra to note on this site: if you want to sell and then buy back on La Redoute, La Redoute credits you with an additional 25%.
In my example, if I want to sell my sofa for €700,
either I receive the funds in "hard cash" as they say,
either I have a gift card of €700 x 25%, or an additional €175, to use on their site.
Personally, I find that pretty good.
The posting of ads is very fast, two minutes are enough.
Where to sell your sofa in a physical store?
By thinking about a solution to sell my sofa quickly, with the rise of the second-hand market, you can resell everything, from your smartphone to your books, including your video games and therefore, furniture.
I said to myself that potentially, some furniture brands could buy back our old sofas.
First, it would be interesting for these brands, because then we would buy a new sofa from them.
So I did some research and here are the brands that can buy back your sofas and their conditions:
Home salons: trade-in up to €2,000
Leather Center: trade-in up to €1,500
As you can see, very few physical stores offer to take back your sofa for money. In addition, for these two brands, these were one-off offers, which are now over. Leather Center's latest operation dates back to 2017! It is therefore not a credible solution.
On the other hand, most offer a free recovery service, as soon as you buy a new sofa from them.
Since 2006, on each product, there is a paid eco-participation which is used to pay for the recycling of sofas and other products.
A few tips for selling your sofa well
A sofa is a fairly expensive product that does not necessarily sell easily on the internet. Very often, potential buyers want to test the sofa before buying it. It must therefore be highlighted, and for this, the photos are very important.
As with any item online, it cannot be touched, so enough photos must be taken. Also remember to depersonalize it, that is to say remove the cushions, plaids, etc. leave it neutral, put the cushions back in shape and then take a picture of it from all angles: close-up, the seams , also take a picture of the potential defects, the buyer must be warned that this is a second-hand sofa and this saves him a big disappointment.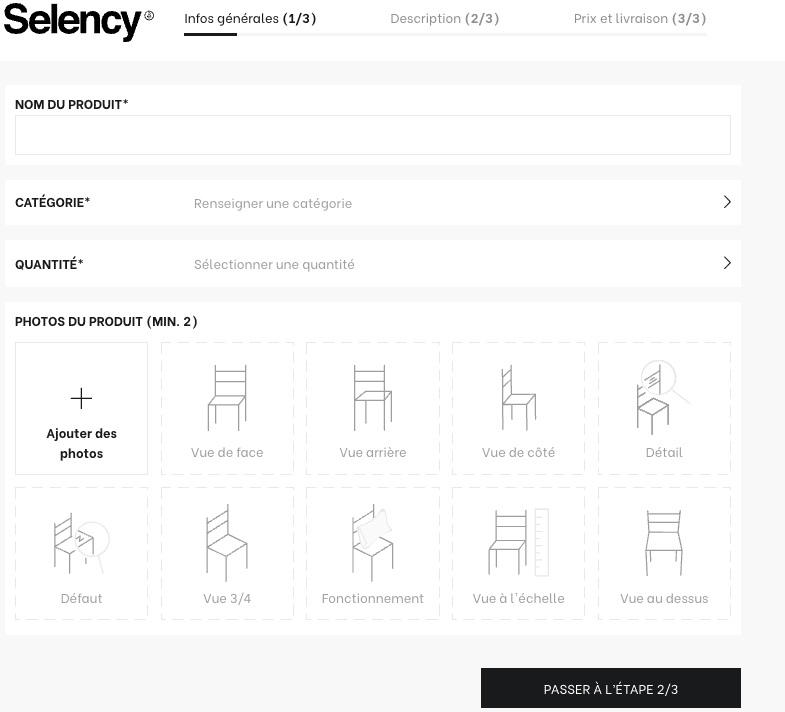 Here are, for example, the photo ideas given by the Selency site.
Detail as much as possible the characteristics of the sofa: removable cover, material, type of sofa, color, brand and model, dimension (height, width, depth), avoid the many questions that Internet users may have.
Be sure to display the name of the sofa model in the ad, because some potential buyers have been able to test the sofa in-store and are therefore looking for a specific model.
This will allow you to be more easily online, because Internet users will type the name of the model on the site search engines, so they will be able to come across your ad and buy your sofa.
Also remember to indicate in your ad if the sofa has allowed animals and if you are a smoker or non-smoker. A sofa in a non-smoking environment will sell faster.
Here is the description of my ad: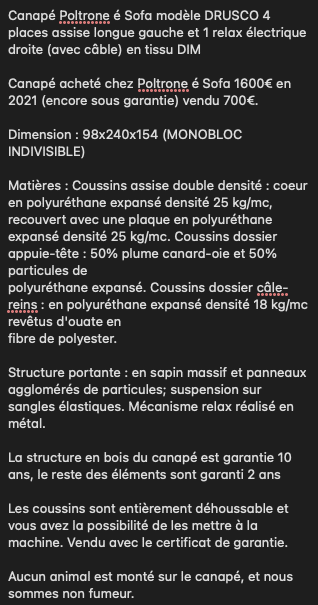 I reused the description of the sofa found on the site by personalizing it. I like to add the price I paid in the ad, it's psychological and it prevents the potential buyer from negotiating, even if he always does. Besides, think about it for setting the price.
Another blocking factor on the internet is delivery. Often, potential buyers (especially for a sofa) do not have a solution to pick up your sofa. So if you have the option, why not offer delivery, subject of course to a delivery charge. Thus, you break a barrier to the purchase of your potential customers.
Finally, to sell your sofa well and above all, to sell it quickly, I advise you to put an ad on each of the sites presented in this guide. To go faster, and put the ads online quickly, save the description somewhere on your note application on your phone for example, and then copy/paste it on the different sites.
For my part, it is thanks to the LeBonCoin site that I sold my sofa in less than 2 weeks, I thought I was going to end up with a sofa on my arms like those was the case the last time, but in the end it was thanks to the LeBonCoin site that I had the most contacts and that I ended up sell my couch, but that doesn't mean you will too. By multiplying the ads on the sites, you multiply your chances of selling.
Recycle your sofa
As a last resort, if your sofa is a little damaged or no longer has great value, two solutions are available to you:
you can donate it to an association (Emmaus, for example, which can come to your house if you have a lot of furniture to donate) or
you can take it to the recycling center. This will then be recycled, and will be used to make fuel in cement works.
The solution of the association will have the advantage of avoiding you to move.
Did this guide help you? Share it on your favorite social networks.